Customer Reviews
Customer Reviews
10/15/2020
Bobby S.

Canada
Product review
The ordering process was fine but I haven't received my product yet. I'm from Canada so I'm assuming that's why?
10/08/2020
Anonymous

Australia
Life changing
I have been using balance from last few months, this product worked wonders for me, it resolved my pcos, my periods are absolutely regular now, my acnes has cleared which were worst before bcoz of my pcos. I have seen great changes in my mood. With balance I have used your other supplements as well are amazing bcoz of good quality and pure form. Konjac really helped me with my cravings. I have even recommended same supplements to few of my friends as well.
09/06/2020
Bree C.

Australia
Amazing!!!! Really does work!
Within 3 weeks of starting this I got my first natural monthly cycle in 8 months!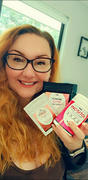 Liquid error: Array 'foundCollection.products' is not paginateable.